Wedding Ceremonies in Spain
Wedding ceremony options in Spain can be confusing when you first begin your research. As your trusted Wedding Planners Spain, we are here to help you every step of the way. From Catholic Church marriages to romantic and symbollic blessings, if you have any questions or queries at all, please feel free to contact us.
Please see below some further information about the different options for getting married in Spain:
Catholic Church Ceremonies
We work with a selection of Churches along the Costa del Sol. Most of the Churches that we work with have English speaking priests as well as the option to bring your own priest to officiate the marriage. Traditionally Spanish Catholic weddings do not have communions, although our priests at some Churches will allow communion for foreign weddings, this varies by Church.  Catholic Church weddings tend to take place at 1pm, 5pm or 6pm (Spanish siesta is from 2-4pm).
Catholic Church ceremonies are legally recognised. After the marriage has taken place, we process the church certificate at the local civil registry and then provide you with the International Certificate of Marriage which is then recognized worldwide.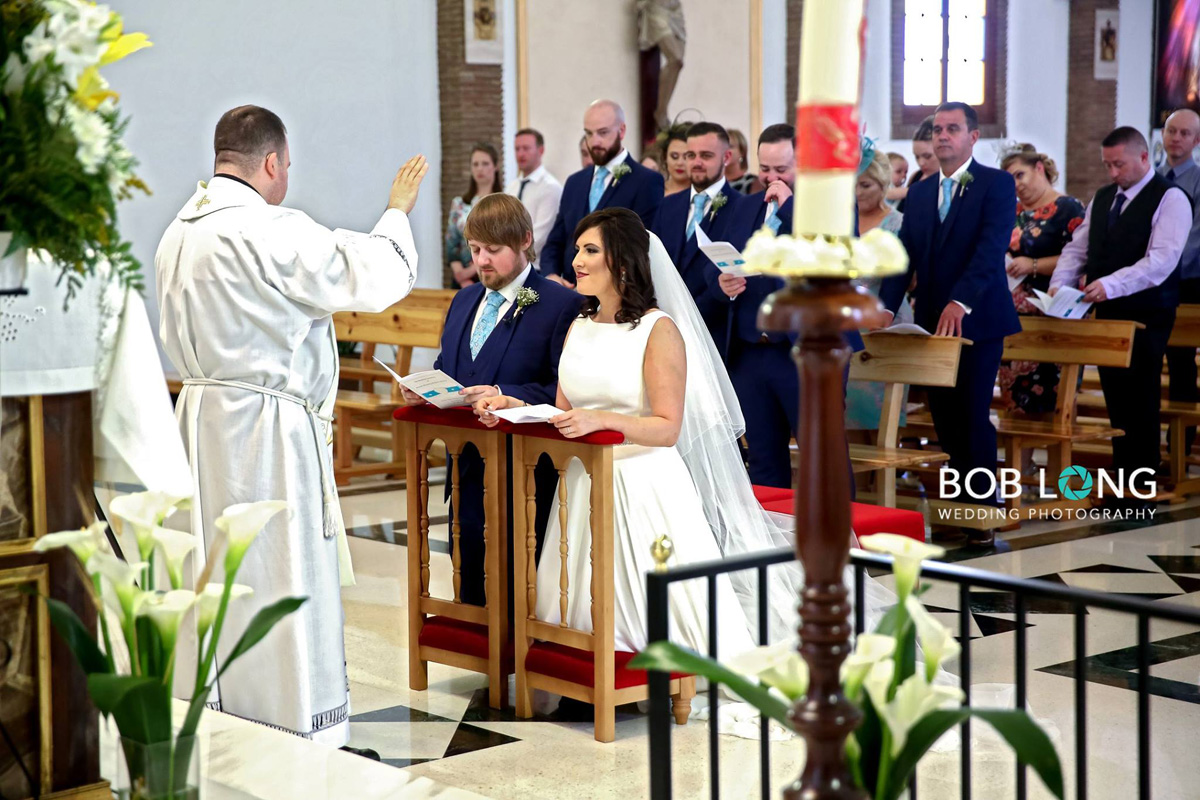 Romantic Blessing Ceremonies
All of our venues listed on this website offer a Romantic Blessing service. Depending on the Wedding venue, Romantic blessings can take place on the beach, overlooking the ocean or poolside.
A typical blessing ceremony set up will include an altar, chairs for the guests and at some venues a red or white carpet. Exact ceremony set ups vary depending on the chosen wedding venue and extra decoration options can always be added.
With a Romantic Blessing you will have the opportunity to discuss the ceremony with your Minister and personalise it to your personal preferences. You can make your blessing ceremony as religious or non-religious as you wish.
Romantic Blessings are not legally recognised, couples would usually have a civil registered ceremony either in their home country before or after the blessing, or in Gibraltar. 
Civil Ceremonies in Gibraltar
For non-Catholic Weddings, Gibraltar is a great option, it is around an hour's drive from Marbella and offers the opportunity of a legally recognised marriage. Civil weddings can take place in the Registry Office of Gibraltar or in a variety of other venues, including the Alameda Gardens, Mons Calpe Suite and La Caleta Hotel (all of which are listed in our Gibraltar Weddings section). Some couple opt to have no guests at all at their Civil ceremony and follow it with a Romantic Blessing in Spain afterwards, or others opt to have the entire Wedding in Gibraltar and stay over or travel back to Spain after the Wedding Reception.
Information for Weddings in Spain
For more information about any of the above Wedding options, please contact me directly on: 
melissa@bespokeweddingsspain.com
 or fill out our contact form via the link below
Meet us in UK & Ireland!
Dates pending
We usually visit Ireland multiple times per year and the UK once per year.
Unfortunately due to ongoing covid-19 restrictions and regulations travel and hosting meetings is not as easy as it once was.
We hope to be back on the move from early 2022.
For more info on our venues, packages or general questions: